Fujifilm Business Innovation has shown off the features of its new headline production press, the Revoria Press PC1120, which provides printers with the option to explore a metallic gamut and deeper colour gradients thanks to the opportunity to add clear, white, silver, gold and pink to the standard CMYK mix.
The press is the first to be launched under the Fujifilm Business Innovation brand and in addition to the toner flexibility, it also offers inline finishing with a creasing/folding solution and a range of feeding options which make it possible to print on stocks up to 400gsm and in longer lengths.
The speed of the machine and the ease with which toner colour stations can be changed – around eight minutes and involving four screws – make it a perfect option for offset printers looking to add a digital component or a digital printer seeking to up the game in terms of the visual depth the extra colours bring.
It is also possible to scale up the machine by adding the extra toner stations as an when required.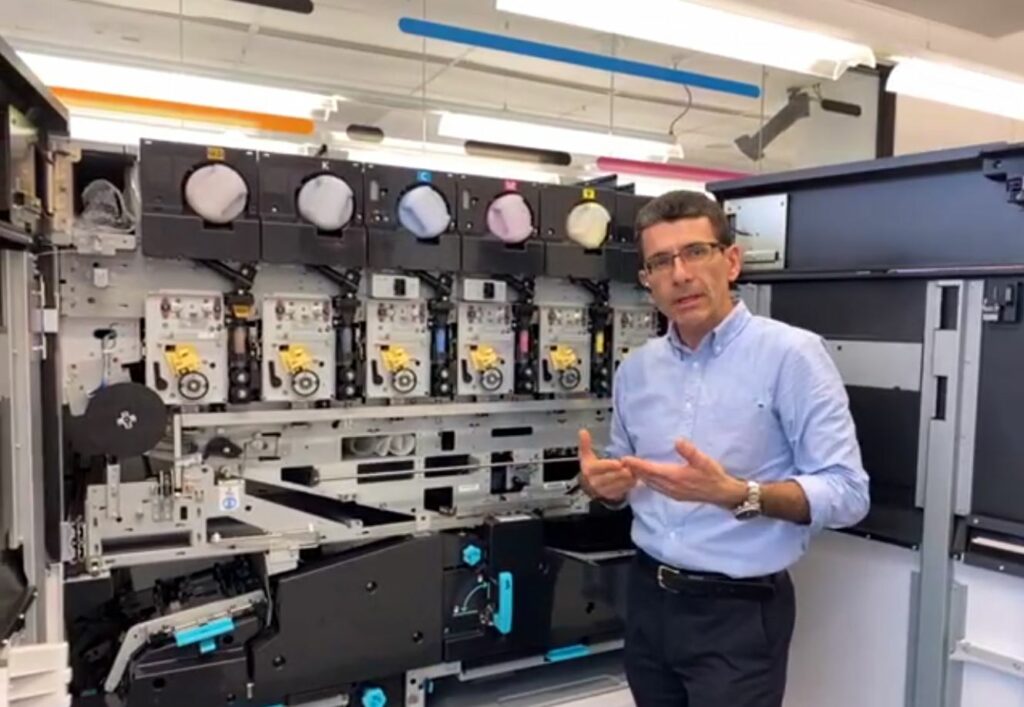 The new press was taken through its paces today in an online demonstration by Fujifilm Business Innovation Senior Innovation Analyst George Maniatis with an introduction provided by Fujifilm Business Innovation General Manager – Graphics Communications Services, Chris Lynch.
The features of the other major cut-sheet press launch of the year for Fujifilm BI – the Revoria Press E1 Series – a monochrome production unit which would suit printers who provide print services for the finance, government and education sectors – was also covered.
Lynch provided a handy overview of the print sector, reflecting on the impacts COVID has had on the industry. Whilst there was some negative changes in terms of the pressure the pandemic has put on the printed product, there were also some major positives – particularly the increased value of print for the letterbox.
Packaging printing, personalised print and transactional mail positive in COVID
Packaging printing, personalised print and transactional mail had also increased and has been a positive out of COVID, he said.
Citing recent Ibisworld figures, Lynch said print revenue has contracted by 4.5% from 2016-21 with this expected to continue.
"Whilst COVID has ratcheted up the pressure on print and had some major impacts on print it has also meant the physical mailbox has taken on new meaning, particularly in packaging, direct mail and transactional print," Lynch said.
"Outsourcing has also become a key focus point for many businesses, particularly in government, finance and manufacturing."
Making print stand out
Lynch said embellishments and enhances to the printed product is one of the best ways to major jobs stand out and attract the all important return on investment for clients.
"The Revoria PC1120 Press makes it possible for the printed piece to stand out from all the others by going beyond CMYK to enhance and embellish print so the consumer is fascinated and wants to pick up the product," he said.
"We call this going beyond CMYK so as to differentiate yourself or your product from others."
Lynch said the gross margin improvements to be gained from adding these types of embellishments are also substantial, adding research shows print buyers are willing to pay a premium of 24% to 89% over CMYK for an embellished product (see below slide from the presentation).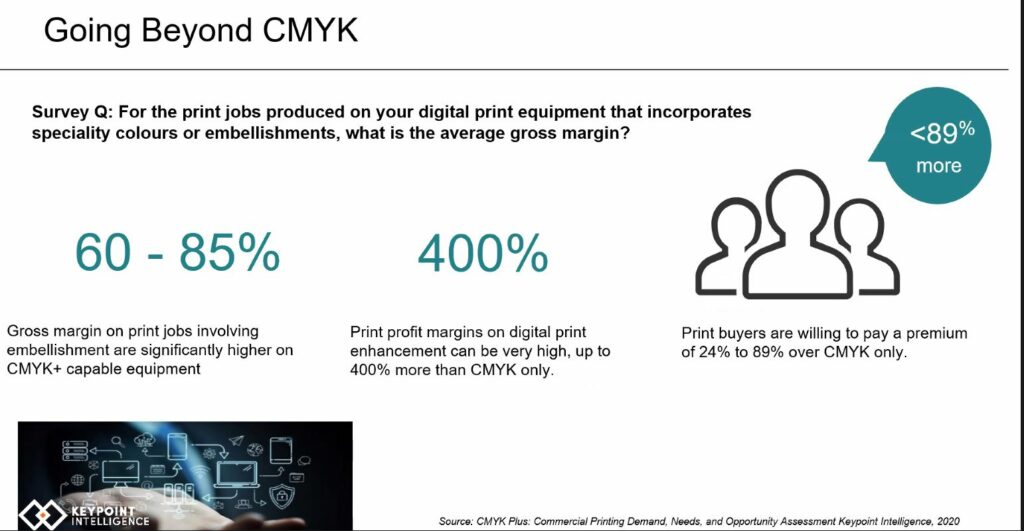 Lynch also outlined the features of the Revoria Flow print server and the Revoria One workflow software which are both designed to improve productivity and efficiency.
"The Revoria press offers new value, new opportunity and new ways to grow profits or to safe costs," he said.
"The market has told us they want faster print, higher quality print, the need to match spot colours to print more corporate brands, and to print on different creative media that make effects stand out and pop."
Gold, silver, white, clear and pink toners – a digital alternative to foil stamping
Lynch added the addition of the gold, silver, white, clear and pink toner options open new opportunities for printers.
"The five choices of additional colour available create a digital alternative to foil stamping. Gold and silver can also be used in combination with CMYK to create a new palette of mixed prints. Mixed metallics really make print stand out to create a spot UV effect," he said.
"Pink can also expand the colour gamut, improve skin tones, smooth gradients, reduce noise in tinted colour, increase vibrancy, consistency, match spot colour. And you can expand your print media with white. You can print directly on PET, coloured media and decals. Printing white on transparent paper also has a really dramatic effect."
Artificial Intelligence benefits
The press also features as AI-based Photo Quality Optimisation Tool which Lynch said was a newly developed feature to allow printers to get the best possible colour out of the press.
"The benefits of this feature are fast turnarounds and built in automation to ensure the task of enhancing or embellishing print to make it stand out is easy, it takes up no more time than printing easy four colour CMYK," he said.
There is also Air Suction Feeder which allows substrates up to 400gsm or as thin as 52gsm to easily, reliably and consistently travel through the press.
Fusing unit
Whilst the left side of the Revoria is is all about imaging and image transfer, the right side focuses on fusing and cooling. There is also an auto duplex feature which can handle long sheets.
A Static Elimination Unit has also been added to this part of the press which Lynch said is quite unique to the industry at the moment.
The finishing capabilities include booklet making, digitally programmable crease and trim features, saddle stitching function, front edge trim and square spine production to enable printers to achieve a stay flat look.
Revoria E1 Series
Printers who service the finance, education and government sectors may also be interested in checking out the new monochrome Revoria E1 Series.
Lynch said the E1 Series, in addition to the simple black and white and ability to overprint, a range of finishing options from feeders, inserters to creasers, folders. It can be used to create book covers, calendars, banner posters, security printing, comics and envelopes plus more.
Any printers who would like to check out the Revoria series, should get in touch with Fujifilm Business Innovation here.
Comment below to have your say on this story.
If you have a news story or tip-off, get in touch at [email protected]
Sign up to the Sprinter newsletter