Kodak has unveiled a range of new products including the Kodak Ascend Digital Press which is being initially launched in Europe and the US in Q2 2022 for the retail/POP and packaging markets.
Kodak says the Ascend is the first electrophotographic press and is designed to print on heavier substrates up to 762 microns and at lengths up to 122 centimetres with eye-catching, high-margin CMYK and flat foil embellishments in one pass.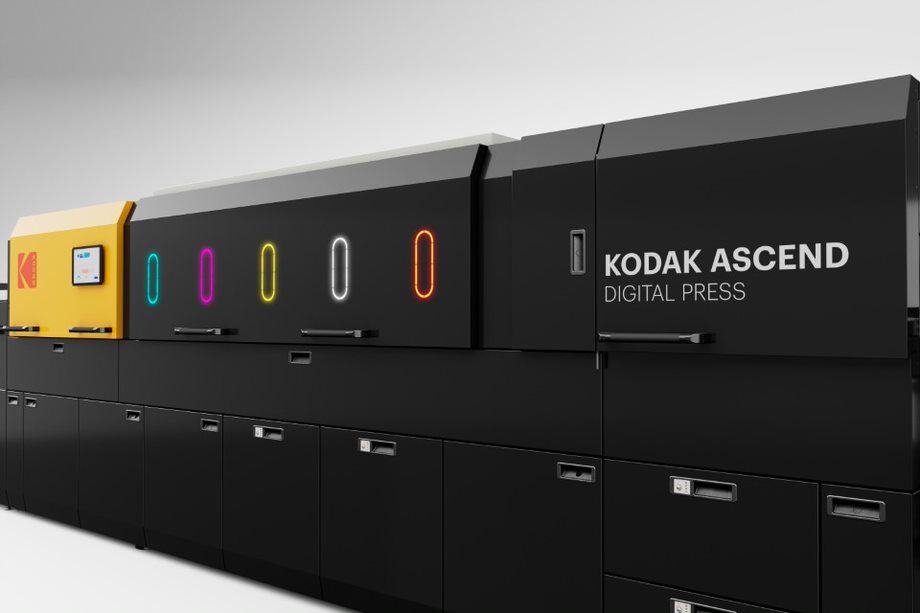 It is said to be more flexible than traditional sheet-fed presses and more productive than flatbed inkjet systems with production speeds up to 572 square metres per hour or 7200 A4 sheets per hour.
The press has 13 optional digital embellishment dry inks including opaque white, antimicrobial clear and foil ink that can be changed in less than eight minutes, which Kodak says is up to six times faster than leading competitors.
The new press is being released in Europe and North America in the second quarter of 2022 with no date yet for its arrival in Australia or New Zealand.
Its Kodachrome Dry Inks are Indirect Food Contact rated which allows the press to deliver sustainably recyclable print.
Kodak's executive chairman and CEO, Jim Continenza says the announcements prove Kodak's commitment to solution development.
"The innovations announced today reflect Kodak's continued commitment to developing breakthrough solutions that enable our customers to improve their productivity and profitability and successfully expand their customer base," he said.

Kodak executive chairman and CEO Jim Continenza
"With innovations like the KODAK ASCEND Digital Press, we are opening up new profitable application opportunities for printers. We continue to deliver on our promise to provide a complete range of solutions that offer Print that Pays."
More cost-effective Prinergy on Demand option
In other announcements, Kodak introduced Prinergy On Demand Access – a cost-effective expansion of its cloud-based Prinergy On Demand Platform.
Kodak says this option makes the printing industry's most secure and highest performing software platform affordable for more printers of any size, with or without digital presses.
Prinergy On Demand Access includes preflight, colour management, file management, backup and routing as well as built-in KODAK INSITE Prepress Portal functionality for file submission, remote customer collaboration and online approvals. Kodak says this new product will be available in Q1 2022.
New water-based varnish
A new Kodak Prosper Digital Varnish to suit highly flexible digital coating of paper-based packaged has also been announced.
The Kodak Prosper Digital Varnish is water-based and can be jetted as an area or spot coat to printed packages using Kodak Prosper S-Series or Kodak Prosper Plus Imprinting Systems. It is an eco-friendly varnish which Kodak says can be applied in perfect register with design elements and creates a matte protective layer providing rub and water resistance to paper-based packaging applications.
The varnish is applied only where needed and doesn't require platemaking for spot coating. Kodak says this helps printers by eliminating the costs, effort, waste and environmental impact associated with traditional post-coating methods. The new varnish provides an environmentally friendly, water-based alternative to solvents and UV coatings.
The Kodak Prosper Digital Varnish will be available worldwide by the end of 2021.
Enhanced Kodak Mobile CTP Control App
Kodak also announced an enhanced Kodak Mobile CTP Control App which allows remote control and monitoring of up to 10 Kodak CTP Platesetters. The company says this reduces dependency on onsite labour for managing jobs in queue, status updates and more.
Kodak says the enhanced version of this app provides access to real-time and historical data with customisable reporting to save time on data analysis, help prioritise actions, and improve plate-making efficiency. The new version of Kodak Mobile CTP Control App is now available worldwide to download for Android and iOS mobile operating system.
For more information visit www.kodak.com.
Comment below to have your say on this story.
If you have a news story or tip-off, get in touch at [email protected]
Sign up to the Sprinter newsletter