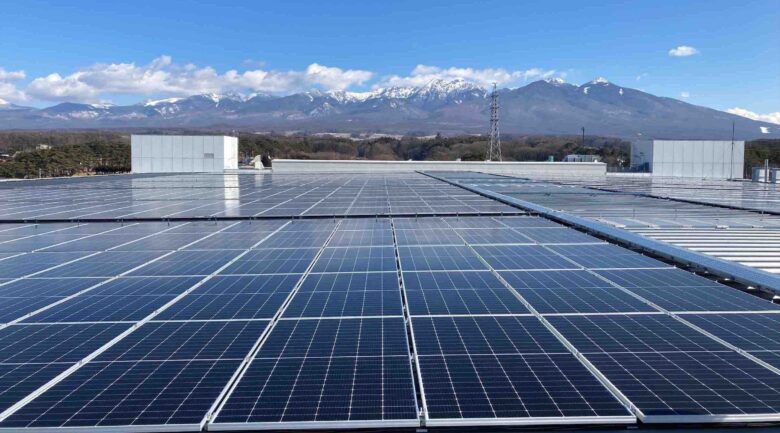 Epson's Fujimi planthas has begun using an onsite solar power generation service (PPA model) provided by SMFL Mirai Partners Co., a strategic subsidiary of Sumitomo Mitsui Finance and Leasing Co.
Under this arrangement, SMFL Mirai Partners owns the solar power generation equipment installed on the roof of Epson's Fujimi Plant and will service and maintain the equipment.
The panels used in the system have a capacity of 549 kW and can supply approximately 667 MWh of electricity a year (an amount equivalent to that used by about 150 ordinary households).
All the electricity generated will be supplied to the Fujimi Plant, reducing its annual CO2 emissions by about 253 tonnes. Fuji Furukawa Engineering & Construction Co., which was in charge of EPC, built the solar power generation system.
This is the first solar power generation system using the PPA model introduced at an Epson site.
The company said it marks the start of efforts to increase the amount of power Epson generates privately and will contribute to the expansion of renewable energy power sources, for which there is growing public demand.
SMFL Mirai Partners said it is using this as a steppingstone to propose the introduction of additional systems using the PPA model at Epson plants, offices, and group companies, and it will support the Epson Group's efforts to expand the amount of power generated onsite.
Epson said the move is a step towards pursuing efforts to achieve its Environmental Vision 2050, which outlines the company's long-term policies for environmental management.
Epson has also made the utilisation of renewable energy a crucial part of its SBT achievement scenario for attaining the decarbonisation goal of the Paris Agreement.
In addition to achieving its own environmental goals, Epson aims to help build broader public recognition of the need for society as a whole to decarbonise and to foster a social environment that facilitates the adoption of renewable energy.
Comment below to have your say on this story.
If you have a news story or tip-off, get in touch at [email protected]
Sign up to the Sprinter newsletter