A recent Smithers report indicates global printed label demand will grow to $48.16b by 2026 after a slight COVID-induced dip in volumes in 2020 with pressure sensitive labels, wider use of inkjet and the adoption of more sustainable print system pivotal to growth.
The new Smithers report, The Future of Label Printing to 2026, indicates the labels market will reach a value of $41.75 billion with $1.21 trillion A4 equivalents printed in 2021.
This comes after the segment saw a small overall drop in 2020 due to COVID-19's impact on packaged goods sales which sent printed label volumes down by -1.1% by volume and -0.8% by value.
Smithers says this decline was moderate compared to other print segments, adding a quick return of lost sales is expected with a compound annual growth rate (CAGR) of 2.9% in value tipped for 2021-26. Likewise, volumes are also set to increase at a CAGR of 4% over the same period.
The report goes on to say this is the equivalent of 1.47 trillion A4 sheets being printed in 2026, with a combined value of $48.16b.
The data covers five leading label formats: wet glue, pressure sensitive, multi-part tracking formats, stretch and shrink film sleeves and in-mould labels.
"It shows the greatest rise in demand in 2021 will be for printing pressure sensitive labels, with sales value rising 6.1% on 2020. These formats – already 59.6% of the market – will account for the majority of value and volume growth over the next five years, although printed sleeves will also increase their market share," the report found.
"Label print and narrow-web presses continues to be a focus for many print OEMs, and has proven pivotal to the wider market penetration of digital (inkjet and toner) platforms. The majority of labels are still run on analogue presses, flexo accounts for 37.0% of output in 2021, offset litho represents 23.2%, and gravure adds another 13.8% – digital systems are only 9.0% of the market by volume."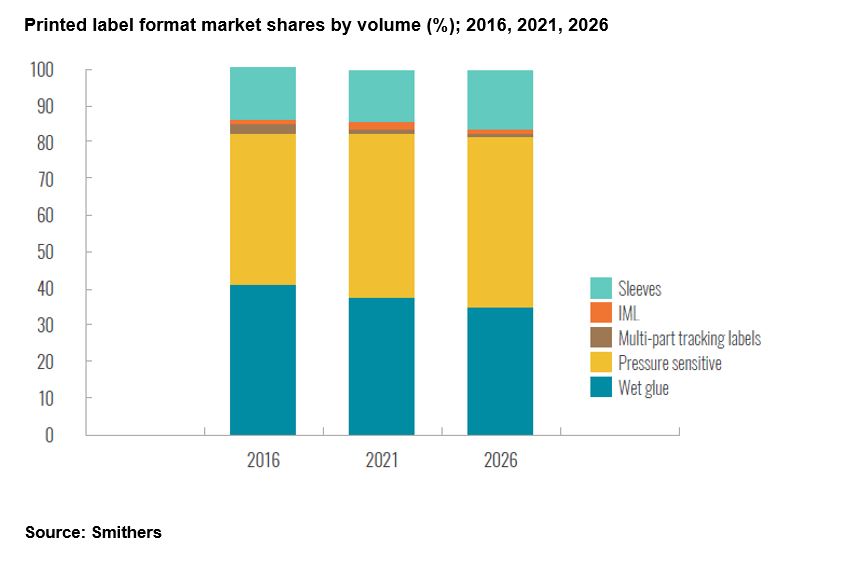 Value proposition
Smithers says the digital label printing creates a more compelling value proposition with this production type to represent 28.2% of the market, or $11.79b, in 2021.
"As this segment develops over 2021-2026, inkjet will become the preferred option with output growing at 13.1% year-on-year; while electrophotography falls back to a 5.3% CAGR," the report said.
Market trends
Smithers also outlined what key trends will be central to the success of narrow-web press manufacturers, ink suppliers and print service providers.
In summary these were:
Improving the recyclability of labels and release liners. This is now supported by virtually all consumer brands and is enshrined in corporate sustainability targets. This will result in more label collection schemes, easy-to-remove label formats and the need to print on label stocks that are made from recycled materials or biopolymer films.
The use of lighter weight labels and wider use of linerless labels.
Shrink sleeves will continue to grow. This will be driving by the increasing appeal of full-colour, wraparound designs.
Luxury goods will seek more premium label options including concepts for e-commerce and omni-channel sales. This will open up a discussion about finishing and embellishing technologies; embossing/debossing; spot and high-build varnishes; lamination; hot and cold foiling and special effect inks.
Online sales will also make brand protection an important consideration in label print. Brand owners are eager to switch to labels that carry unique identifier codes to protect against counterfeiting.
Productivity improvements will be demanded by the greater automation of narrow-web processes. This will result in greater connectivity and integration with MIS systems.
Comment below to have your say on this story.
If you have a news story or tip-off, get in touch at [email protected]
Sign up to the Sprinter newsletter