This story appeared as part of a large Technology Focus on digital printing and finishing in the October issue of ProPrint. Click here to see the whole story online.

The COVID-19 pandemic has accelerated the transition from offset lithography to digital print, finds Henryk Kraszewski, Senior Product and Marketing Manager at Ricoh Australia.
"As offset print runs continue to shrink, that provides significant opportunities for digital presses with their ability to deliver high-quality output on almost any substrate – but with the ability to do so economically on runs from one to thousands.

Henryk Kraszewski, Senior Product and Marketing Manager at Ricoh Australia.
"The range of applications on digital presses today is virtually limitless," he indicates, citing products including banners, decals, direct-mail pieces, flyers, invitations, gift boxes, photobooks, POS and posters. Very relevant to today's retail conditions, he also cites in-store social distancing assets.
"All printers are fundamentally looking to increase revenue or reduce costs – or both," explains Kraszewski. "Ricoh presses can help print providers build revenue by enabling them to offer a broader array of product offerings: a greater selection of stock types (coated, textured, synthetic, coloured, and so on), stock weights and sizes, finished product (bound, folded, hole punched) and/or embellished. The broader product offering can satisfy more requirements for existing clients – or attract new clients.
"On the cost side of the equation, Ricoh presses offer ease of use, high productivity, automated finishing, and high uptime – all designed to get more jobs produced per shift with minimal manual intervention.
"Investment requires a rapid ROI. The ability to produce a greater variety of print jobs, quicker, easier and with less labour than offset lithography – but with the print quality to match – means print providers can realise that magic formula of building revenue and reducing costs at the same time."
New updates
Kraszewski reports that two of Ricoh's most popular digital colour presses have recently been updated with new technologies – the Pro C9200 series introduces Auto Colour Diagnosis for improved colour quality and accuracy, and the Pro C7200X series introduces gold and silver toner for metallic printing.
The Pro C9200 series is a high-volume four-colour production press, capable of printing one million high-quality colour pages every month. Kraszewski says it is a proven workhorse with dozens of units operational in Australia producing hundreds of thousands of offset-quality jobs every day.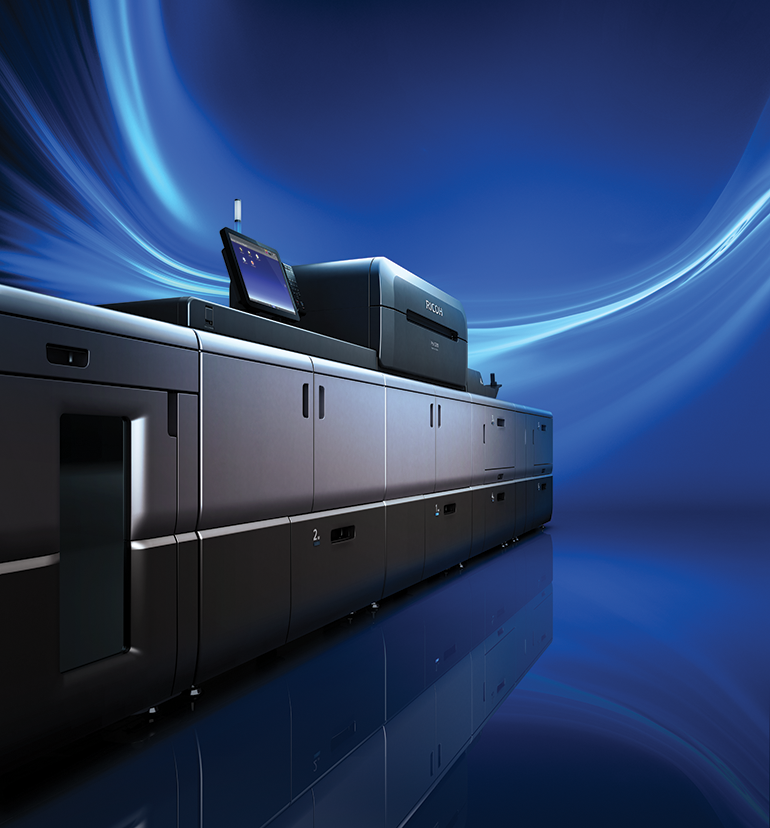 The new Auto Colour Diagnosis option for the Pro C9200 series introduces two key capabilities that will help print providers deliver higher-quality output more efficiently. Firstly, there is improved colour stability by scanning every printed page and matching it against the ripped image data of that page and adjusting on-the-fly if any deviations are detected.
Secondly, the Image Quality Monitor can detect streaks, spots and impurities, matching processed data against the printed image and highlighting issues to the operator.
"These two features combined provide a level of assurance on printed output, ensuring no defective printed products are delivered to customers. It eliminates the need for print operators to inspect work, thereby freeing them up to work on more profitable tasks and will enhance the reputation of the print provider for delivering high quality output that meet delivery times," he says.
Now with silver and gold toner for metallic printing
The Ricoh Pro C7200X series is a five-colour digital press that enables print providers to produce unique applications that command premium prices, says Kraszewski.
"The multi-award winning Pro C7200X has firmly established itself as one of the most versatile digital presses available today with the ability to run high-opacity white or flood or spot clear on a diverse array of stocks to deliver high-value applications that stand out from competitors. Neon yellow or neon pink can add visual pop to posters, dramatically expand the gamut to match difficult brand spot colours (like orange) or add special effects to invitations.
"The introduction of gold and silver toners for the Pro C7200X series provides graphic artists and commercial printers with new opportunities to broaden their product range and create market differentiation through striking metallic print enhancement capabilities. The new toners are retrofittable, enabling existing users to expand the capabilities of the Ricoh Pro C7200X presses they operate today."
Comment below to have your say on this story.
If you have a news story or tip-off, get in touch at [email protected]
Sign up to the Sprinter newsletter