The ProPrint Awards Emerging 50 continues to recognise print's rising stars with the 2021 nominees plus the winners of The Real Media Collective Mentorship Prize and the ProPrint Editor's Choice announced at a well-attended event at the Shangri-la Hotel in Sydney on Friday November 26 with special thanks to Emerging 50 Foundation Partner, Media Super.
Emerging 50 nominees include graphic designers, prepress operators, production assistants, postpress supervisors and finishing specialists as well as employees responsible for distribution, sales, administration and account management with approximately five years or less experience working in the industry.
2021 Mentorship Prize winner
This year the mentorship prize, which is provided in partnership with The Real Media Collective, was awarded to Queensland designer and digital printer, Charlotte Fountain, of Worldwide Printing in Hamilton, Brisbane. She will now receive 12 months of guidance from the TRMC CEO Kellie Northwood, plus a $1000 voucher to spend on an online course at the Australian Institute of Management.
In all 18 Emerging 50 candidates applied for the mentorship prize with the judging conducted by an industry panel who volunteered to be involved at the nomination phase of the awards. Special thanks to all the judges who took the time to review these entries.
The competition was tough but Charlotte's responses to the questions about the industry and where she sees it going saw her across the line.
One of her goals is to bridge the gap between what is taught at design school about print. Since being in the workforce she has discovered there is so much more students could be taught about the art of printing then what is currently happening now in the design sphere.
She also wants to see digital media and print media work together, not against each other as they both need each other to achieve the best outcomes for clients.
The Real Media Collective CEO Kellie Northwood announced Charlotte as the winner at the ProPrint Awards.
"The Real Media Collective takes pride in our role as a leading body for our industry. In that we have a strong passion to build a sustainable industry rich in everything we do, including talent. Our support of the Emerging 50 program is to recognise the amazing young talent coming into our industry and further, to celebrate their diversity, intelligence, creativity and vision. The application process allows each candidate to represent their insights into the future of the industry which we believe brings powerful voices for the betterment of us all," Northwood said.
"Mentoring the successful candidate for a year provides the opportunity to share The Real Media Collective's network and resources with someone who may not have had exposure to all parts of the industry before, as well as the opportunity to build their professional development pathway more formally. Including professional training through AIM Business School was an important piece to ensure the mentoring program was enhanced with a formal training option also.
"The ultimate end goal is for each individual to feel more confident in their future professional journey from working with The Real Media Collective team throughout the year. I personally feel a great sense of responsibility and privilege to work with our future talent, they fill me with such confidence for our industry's future and I congratulate all past, present and future candidates of the Emerging 50 program."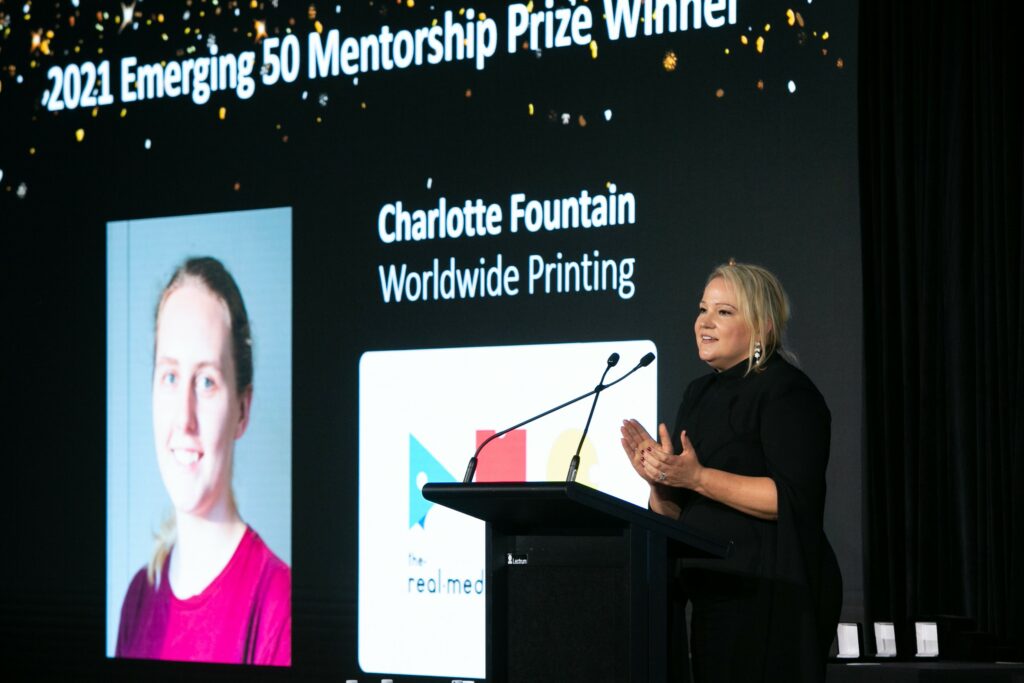 2021 ProPrint Editor's Choice winner
The ProPrint Editor's Choice was awarded to apprentice printer Matthew Zunic of Imagination Graphics in Sydney. Zunic is highly regarded by his employer, Emmanuel Buhagiar, and his peers at Imagination. He operates a variety of print and finishing equipment and submitted a highly professional video submission. He will now receive a $500 bursary to go towards a professional development programme of his choosing in 2022.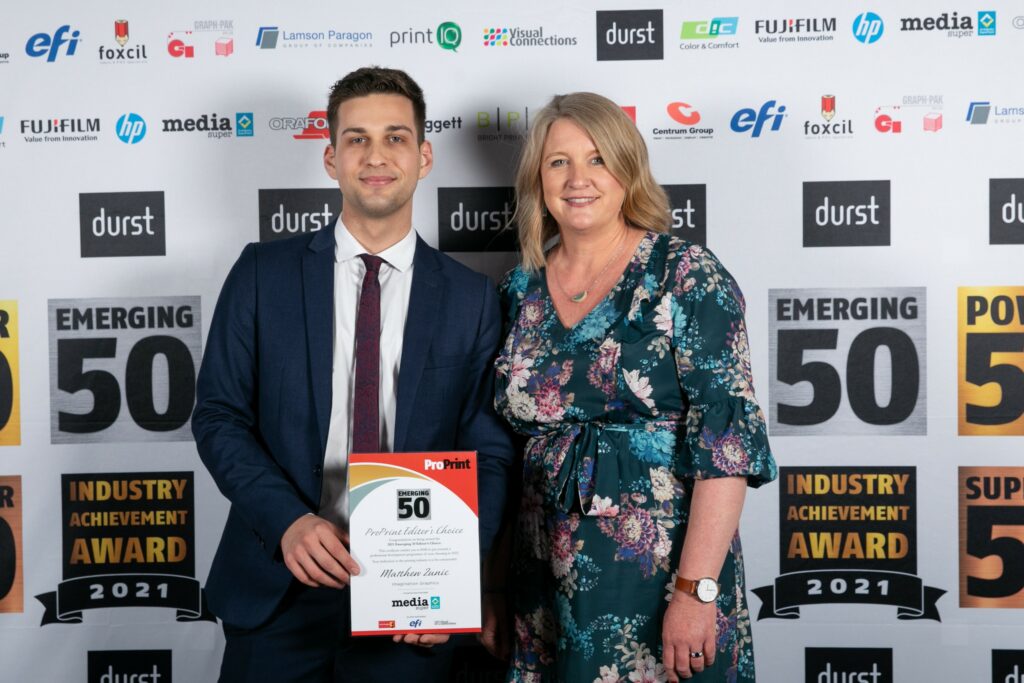 Special thanks to the Foundation Partner of the Emerging 50, Media Super. Media Super has supported this category since its inception three years ago and their support is much appreciated.
We also thank silver sponsors Cactus Imaging, EFI and Visual Connections for their support. The Real Media Collective have again provided Emerging 50 Mentorship Prize partnership.
Many Emerging 50 nominees who were unable to make it supplied videos to play for the audience which were extremely well received.
A full photo gallery will be available in coming days.
Congratulations to the 2021 Emerging 50 nominees:
Abbie Graham, design & communication apprentice, Spatial Services, Bathurst
Adam Crellin, sales manager, Cactus Imaging
Alyce Cursio, sales and operations manager, ADS Australia
Ashleigh Jones, production manager, Digital Synergy
Ben Templeton, service co-ordinator, Durst Oceania
Bianca Willson, printer, Multi-Color Corporation (SA)
Charlotte Fountain, designer & digital printer, Worldwide Online
Chloe Rudd, graphic designer, Print DNA
Chris Palethorpe, orders team, CMYKhub
Christine Benetti, department manager – large format, Avon Graphics
Danielle Terblanche, print communication apprentice, Dobija World
Emerson Earl, internal customer support specialist, CPH Group
Emily Waterson, client services manager, Cactus Imaging
Felicity Holz, printer, Left Bank Art Group
Fletcher Masters, printer & graphic designer, Hansen Print & Design
Gretel Hornsey, sales representative, CPH Group
Hisham Hamdam, prepress and print apprentice, Ligare
Isabelle Lauder, graphic designer, Little Bee Marketing
Jacinta Allen, graphic design apprentice, Breen Printing
Jacob Williams, printer, Ultra Labels
Jarrod Whyte, general manager sales, MMT Print
Jason Smith, managing director, Clark & Mackay Printers
Jervis Tsui, print communication apprentice, Frontline Print
Joshua West, printer, Multi-Color Corporation
Jourdan Durso, account lead, Direct Mail & Marketing
Jye Bancroft, owner, Little Bee Marketing, Townsville
Kaitlyn Fisher, fine art production manager, Left Bank Art Group
Kalani Hohlein, account manager, Carbon8
Kat Ryan, digital print lead, Direct Mail & Marketing
Kelsey Wade, graphic design & prepress apprentice, Print DNA
Kyle Wagner, Business Development, Pakko
Larissa Reynolds, CAD specialist, CPH Group
Leanne Hargreaves, Customer Service, Pakko
Luke Parisella, operations manager, ImageBox
Marilyn Li, client services manager, Cactus Imaging
Matthew Zunic, lithographic & digital print apprentice, Imagination Graphics
Milena Botta, Business Development, Pakko
Nicholas Ellerby, digital strategist, Pakko
Nicolas Birbas, printer, Multi-Color Corporation
Rahul Reddy, Account Manager, IVE Group
Raquel Todd, co-founder and director, Sista Girl
Richard Eastaugh, production and scheduling, Marvel Bookbinding
Richard Tran, production scheduler, IVE Group
Royden Thomas, account manager & new business development, CPH Group
Sorrell Eaglesham, online customer service representative, Spot Productions
Tom McDonald, sales account manager, Crystal Media
Tony Ong, general manager, Pakko
Tyler-Jay Schmidt, digital printer, GoTransit Media Group
Yannoto Ng, project manager, IVE Group
Zaf Haq, Project Manager, IVE Group
Last year's mentorship prize winner, Kelsey Wade of printDNA in South Australia, also sent a message about the highlights of her year of mentorship which included being involved in a Women in Print webinar on gender communication and having her LinkedIn profile improved.
Comment below to have your say on this story.
If you have a news story or tip-off, get in touch at [email protected].
Sign up to the Sprinter newsletter