FESPA CEO Neil Felton has officially opened the FESPA Global Print Expo in Amsterdam with livestream coverage broadcast each day for those unable to get there due to border restrictions.
Felton said after 18 months of pandemic disruption it is wonderful to be back at the RAI exhibition centre to present the latest innovation and trends in the wide format and screen printing world for printers to learn and grow from.
To view the livestream, please visit: https://www.fespaglobalprintexpo.com/fespa-live
"This is going to be a fantastic show and we can't wait to show you the innovations and trends but we know that not all of you can make it so we are going to show you some of the best things which are happening at this year's show and it is going to be a great one," Felton said on the livestream.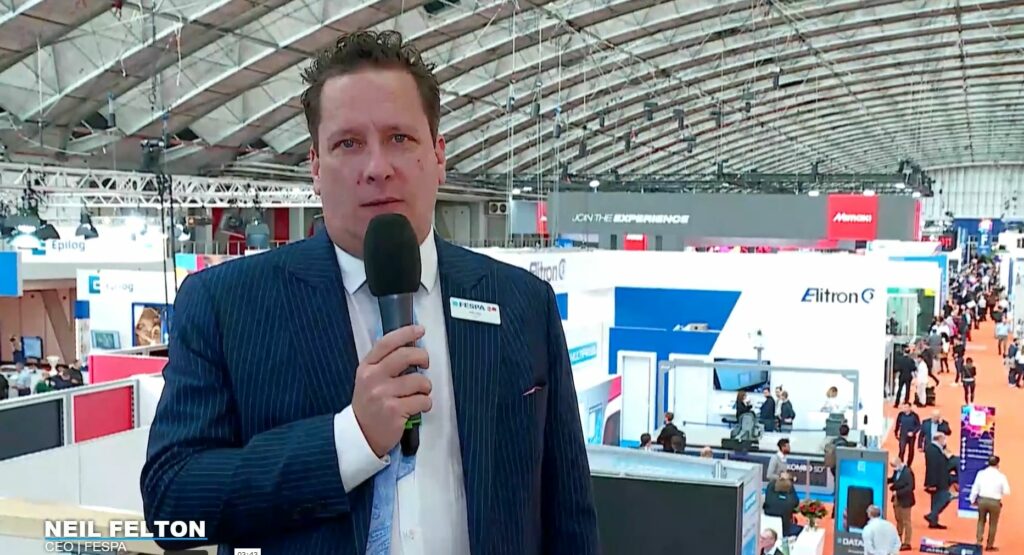 FESPA's Group Exhibition Manager Michael Ryan said it was an emotional day for the team to be back to running a live face-to-face event, but he said he hoped the livestream would give all printers a taste of what is new and what is relevant in the wide format, signage, garment printing and textile printing industries.
"This is a very emotional day for the team and we are very sorry you can't join us from where you are in the world," Ryan said.
"We hope over this livestream that we are giving you the opportunity to get a taste of what is new and what is relevant and what the future is for you."
Durst
During his rounds of the show, Ryan interviewed Durst Vice President of Sales, Christian Harder, who discussed the features of the new P5 press with its innovative automation features and the P5 Tex iSub, which marks a further development of the Rhotex 325.
The livestream also includes an interview with David Cich, President of Vanguard Digital Printing Systems in the USA – a company which makes pure flatbed printers and was recently acquired by Durst. Whilst still based in the US, a Vanguard branch is now being built adjacent to Durst's headquarters in Brixen.
The Vanguard acquisition means Durst now has a complete portfolio to offer in the wide format space at each price point.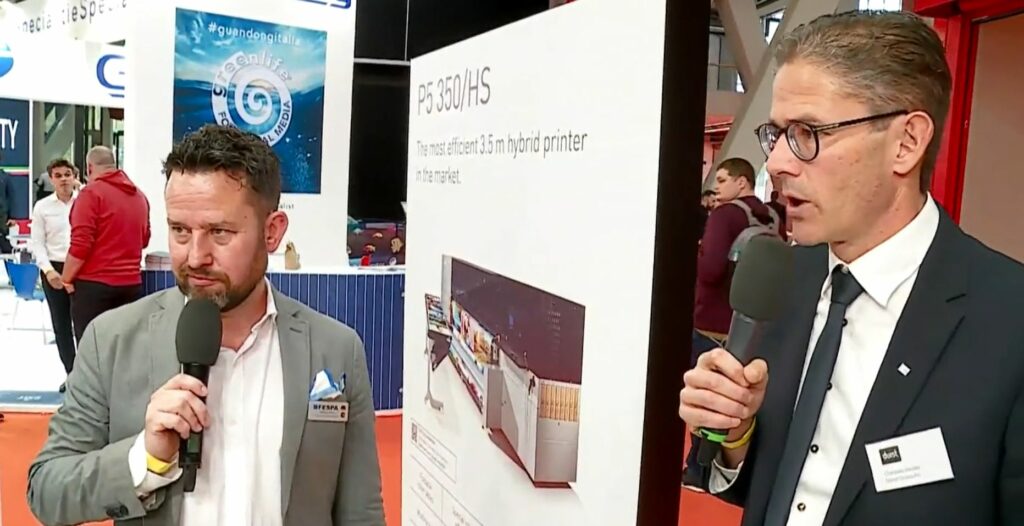 "We launched the P5 last year and now have the opportunity to show its capabilities," Harder said.
"We have a complete product portfolio now with the (Vanguard) pure flatbed printers. Here you see the further development of the P5. This printer is unique because of the very fast media change capabilities which is very important for customers.
"We can load up to two rolls at the same time to reduce the downtimes for the operator when doing a media change and we have doubled the speed. This machine runs at up to 700 square metres an hour which is the maximum productivity.
"We also have completed this with an automation set. This printer can be run at a three quarter automation or full automation.
"We have presented it early this year virtually and here we have already received very good feedback and we now have over 20 units in the market.
P5 TEX iSUB
The new Durst P5 TEX iSUB is also on display in Amsterdam, as a further development of the Rhotex 325.
"What makes this printer unique is it is actually the integrated fixing system so no calendar is needed on that printer anymore which is reducing the investment cost and the running cost because the printer can be operated in a one step process," Harder said.
"We have also developed a new set of inks and we are getting astonishing colours out of this printer. It can direct print on polyester and then on paper to be transferred. The feedback has been brilliant. One thing is the printing quality and the other is the one step process.
Harder said Durst was already receiving very positive feedback on the Vanguard pure flatbed technology.
"What makes this printer unique is the speed, printing quality and investment cost. The balance of all those three things makes this printer really very good.
Caldera
Earlier, Ryan also checked in with Sebastian Hanssens, VP Marketing and Operations at Caldera.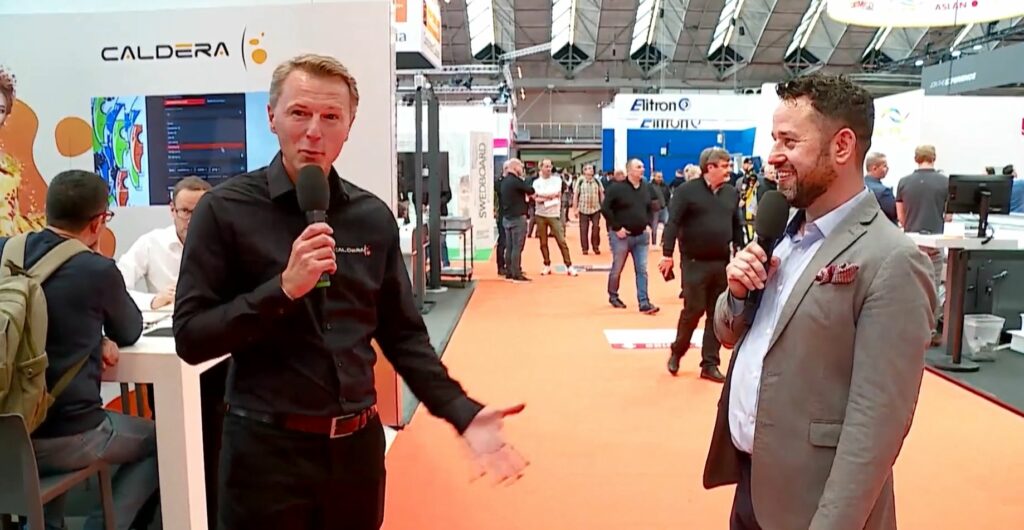 "It is wonderful to see everyone back. I came into the hall and it is smelling of ink and printing and it is such a great experience. Everyone is happy and it is great to see everyone again. There are a lot of people here so it just makes our day," Hanssens said, adding Caldera is celebrating 30 years in business this year.
At FESPA, Caldera is version 15 of its CalderaRIP which Hanssens said is focused on workflow and automation improvements by making the journey of a print file from design to production seamless.
"We are seeing digital printing moving closer to brands that have really high expectations that the colours are right, the media is right, so it is very interesting," he said.
The tour also included a visit to the Agfa stand and an interview with Koen Steert, Agfa's head of sales large format in Europe.
There were also interviews from printers across Europe.
To view the livestream, please visit: https://www.fespaglobalprintexpo.com/fespa-live
Comment below to have your say on this story.
If you have a news story or tip-off, get in touch at [email protected]
Sign up to the Sprinter newsletter